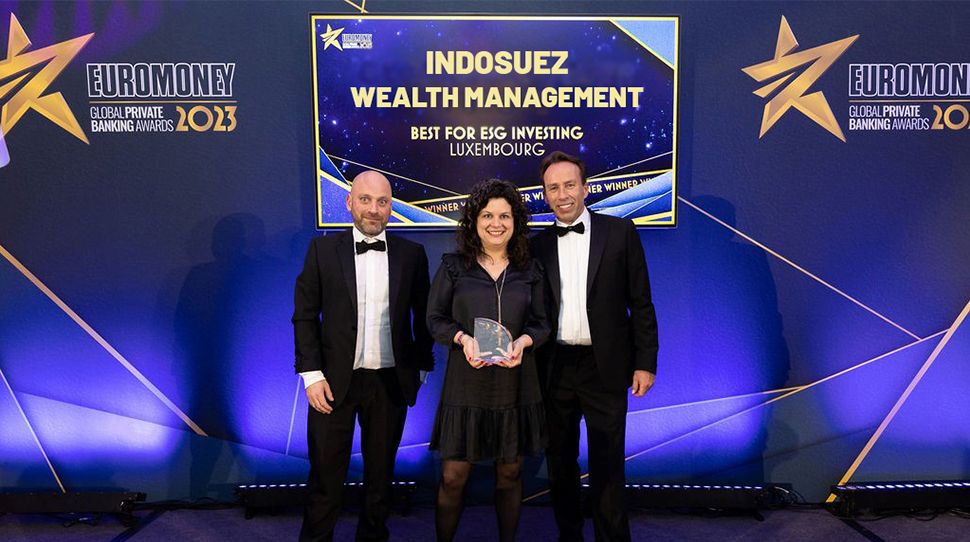 Indosuez won the title "Best for ESG Investing in Luxembourg" at the Euromoney* Global Private Banking Awards 2023 ceremony, held in London on 29th March.
This distinction recognises and rewards our Societal Project, one of whose ambitions is to place responsible finance at the heart of the investment solutions we tailor for our clients.
Olivier Carcy, CEO of Indosuez Europe praises "the progress of the responsible finance offer" proposed by Indosuez in Luxembourg and congratulates all the teams who contribute to the promotion of responsible investment solution to clients and prospects.

*Euromoney magazine was created in 1969 to cover the re-emergence of the international cross-border capital markets. The euromarket, after which the magazine is named, is the predecessor to today's mainstream global capital markets. Euromoney reported on, and championed, this market and its growth, in the process becoming the prime magazine of the wholesale financial world, its institutions and its users.